Submitted by

Jan

on Fri, 2009-07-17 11:18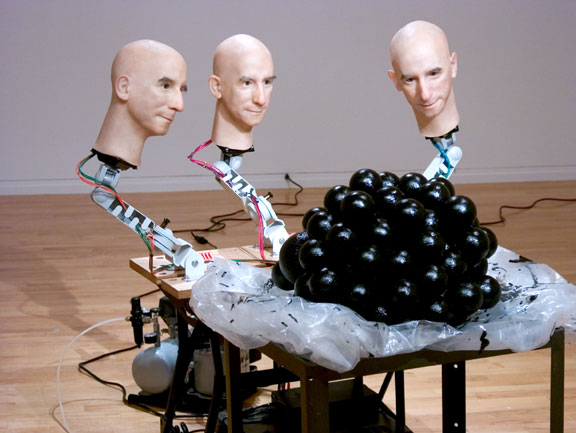 Three self-portraits, each possessing an animal, vegetable, or mineral mind, debate the nature of violence with each other, and discuss their fears – generally their fears about each other. They also wonder about "that thing" before them, and we hear how they project their own interior worlds onto it in an attempt to figure out what it really is. Although they hear each other, nothing seems to penetrate or influence their ideas; no matter what the subject matter discussed, they eventually return to their own interests and fixed ideas.
This work is a "cinematic sculpture". The dialog is not pre-recorded, and is different each time someone visits it, generated in real time by a computer program. The conversations that these figures carry on are neither completely scripted, nor are they random; rather, the software gives each a "personality", a vocabulary, associative habits, obsessions, and other quirks of personality which allow them to behave as if in a scene of film, acting out their role over and over, but always changing.
Inserted from: <http://www.kenfeingold.com/avme1.html>